Originally appeared on The Human Readable Blog, by TEKLYNX.
Partner Blog BY:  NICK RECHT / TEKLYNX
In an unpredictable world, stability is needed wherever it can be found. Your barcode label printing system is critical to business operations, so building a strong and stable label printing system is necessary for a strong and stable business.
Make no mistake – when I talk about a stable labeling system, I do not mean a rigid one. In reality, stability can only be achieved with the right degree of flexibility. Just like building a skyscraper in an earthquake zone, flexibility is what allows a system or structure to withstand powerful external forces.
I've spent a decade of my career dedicated to helping manufacturing companies use labeling software to add value to their business. It's my passion to help our customers build resilient systems that stand strong in the face of changing circumstances. Below I will share four best practices for building label printing systems that adapt to change.
Gain flexibility & control: Print labels on-demand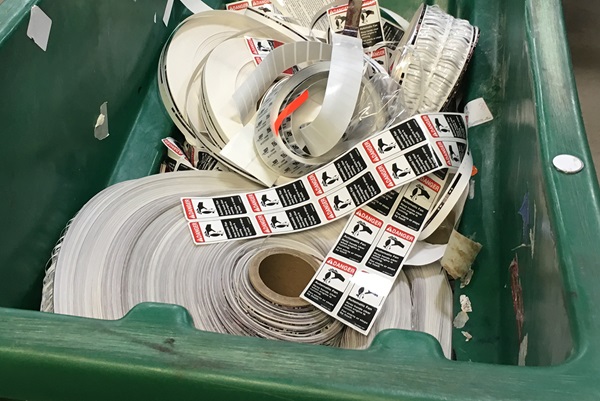 One of the simplest ways I've helped companies create more adaptable and resilient label printing systems is by helping them bring label printing completely in-house. Before implementing this best practice, many companies outsource their label printing to third-party vendors. Outsourcing labels initially sounds like a great idea: you don't have to worry about it, and the labels simply get delivered to the production facility. But there's a downside to the "convenience". Many times, I have heard the following challenges from manufacturers:
The outsourced, pre-printed labels have an error due to a miscommunication with the vendor. The vendor won't re-print without additional payment.
The manufacturer has just received a new shipment of labels when a change is suddenly implemented. Whether it's different products being produced, or company branding has been updated, the new shipment of labels is now useless.
A sudden spike in demand means the production floor needs labels – now! But the labeling vendor has a 2-week lead time.
These challenges are why I help our customers implement on-demand label printing within their production facility. On-demand label printing means only printing the labels you need when you need them, greatly reducing the risk for wasted labels. Printing labels on-demand can even save space where pre-printed labels used to be stored!
The initial investment in printers, label stock, and software is quickly recouped with recovered waste and newfound efficiency. Best of all, businesses that implement on-demand label printing have a reliable, stable, and flexible foundation for their label printing system, giving them more control. Changes can be implemented immediately, with no need for label re-prints.
Build a strong foundation: Smart label templates with database connections
Once a customer is printing labels in-house, it's time to ensure they're using the next best practice: leveraging database connections to print accurate data onto their labels. Database connections replace the need to have print users selecting or typing label data at print time. Mistakes happen, and typing the wrong lot number, using the wrong date format, or mis-clicking the wrong product image can all have serious consequences, such as product recalls.
Using smart label templates with database connections makes your label printing system resilient to changes within your business. Since the label data is being accessed real-time from the business system, it's sure to be up to date. Changes to product information are implemented seamlessly, without any special training or action by the print user.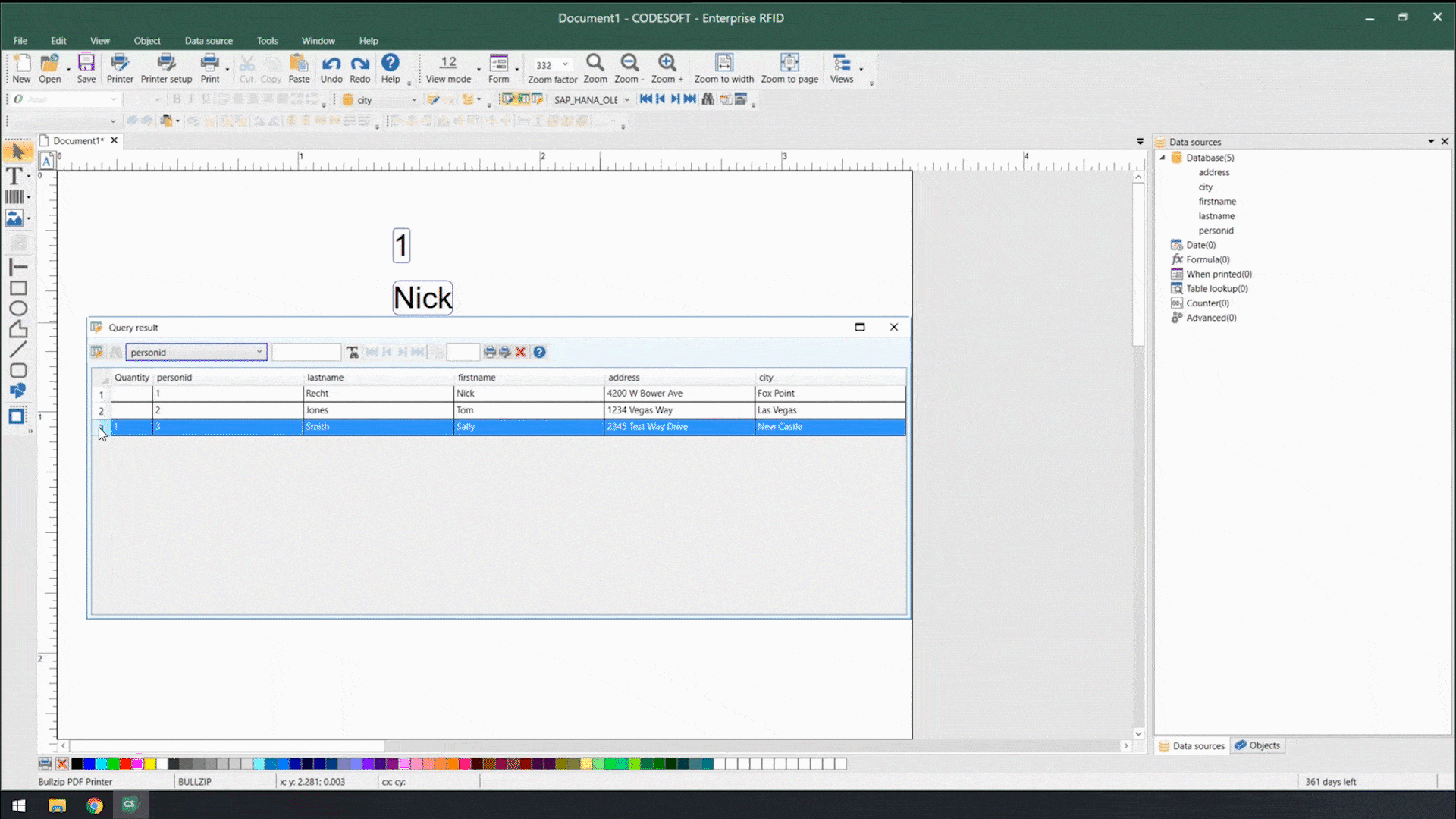 Any kind of field on the label template can leverage database connections: text, barcodes, and even images! To use variable images in your labels, the database record simply has to point to the image's location and file name. Now you can use one label template for a variety of products. Even better, when the marketing department updates the image, it simply needs to replace the old image in the same location, and your label design software will automatically reference the new image.
Keep your eyes open: Label security & traceability
Printing labels on-demand and leveraging smart label templates with database connections are the building blocks of an adaptable label printing system. The next best practice is to implement label security and traceability measures to limit access to label templates and track all changes and print jobs.
While flexibility is key to an adaptable label printing system, security measures provide a framework for reliability and accuracy. Role-based security and user management ensure that only specific people can make changes to label templates. Users who only need to print labels are prevented from accidentally changing the templates.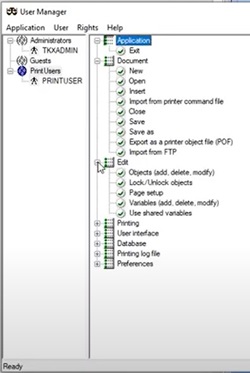 Some basic user management is available in label design software, such as CODESOFT:
Install print-only licenses for print users on the production floor
Password protection at the application level and the label level
User permissions for specific actions within the label design software
Create label printing forms to simplify the label printing process for print users
Add enterprise-level security and traceability with software like LABEL ARCHIVE:
Define and enforce a label approval workflow for new or changed labels
Track every label change, approval, and print job to a database for complete traceability
Generate true reprints of label print jobs in the event labels are damaged
Report on all label history to trace errors to the source and prevent them from occurring
Label security and traceability software is the crisis prevention solution that too many companies overlook.
Plan for the future: Manage & print labels remotely from anywhere
The ultimate adaptable label printing system allows you to centrally manage the entire label printing process from your workstation, whether that's in the office or working from home. Companies with centrally managed label printing are extremely well-equipped to adapt to changes within the marketplace and the supply chain.
Centralized label management is made up of four pillars:
Smart label design with an enforced label approval process
Integration of label templates with the business' ERP system, and automated label printing triggered by that system
Central storage for all label files
A secure browser-based label printing interface that can be accessed from anywhere with an internet connection
A centralized label management system is the final best practice for building an adaptable label printing system that withstands unexpected changes. It encompasses the first three best practices and then makes the system securely accessible from anywhere with an internet connection. With centralized label management, your labeling system is agile enough to adapt to any unexpected circumstances:
When market demand shifts suddenly, the process and roles for approving new labels is already defined. Team members are ready to design, approve, and print new labels quickly. The electronic approval process is complete digital and not dependent on physical location.
When changes in the upstream supply chain force the relocation of a factory, getting labeling up and running at the new facility is easy with a browser-based label printing interface.
When public health concerns force many employees to work from home and reduces the headcount of workers on the production floor, labels can be automatically printed from the ERP system.
When a quick label print job is needed, centrally stored label templates and a browser-based label printing interface allow you to immediately send a print job to the production facility, no matter where you happen to be working that day.
Centralized label management can even be leveraged outside of your business by allowing suppliers to print accurate labels via your browser-based label printing interface. This enables your suppliers to rapidly adapt to your changing needs and print correctly updated labels without skipping a beat.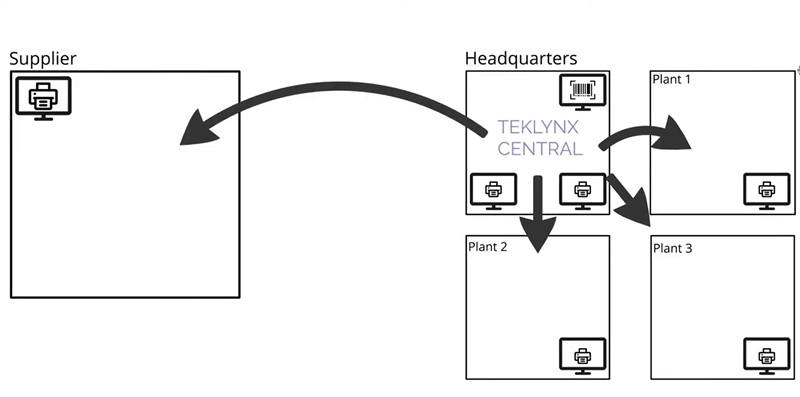 TEKLYNX CENTRAL is a cloud-ready, all-in-one centralized label management system. You can request a free, personalized demonstration by clicking here.
Get ready, and stay ready, with an adaptable label printing system
Implement one or more of the above best practices for adaptable label printing systems, and your business will be ready to face whatever comes next.
Get in touch with a labeling expert at TEKLYNX to discuss the next steps for implementing best practices in your label printing system.
###